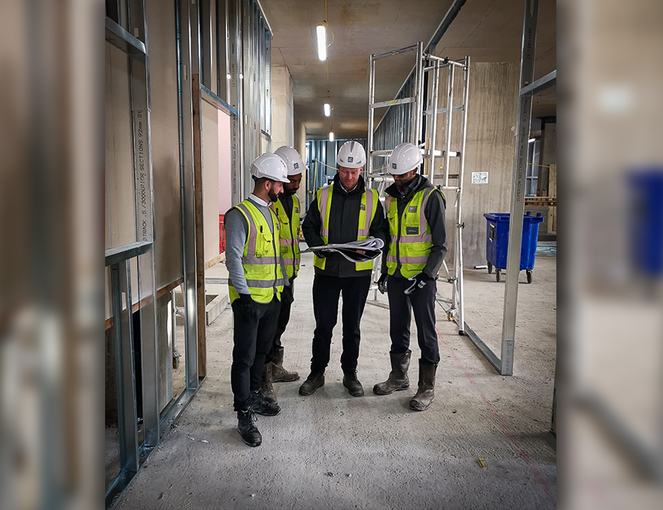 17/10/2019 • General update
Helping everyone pull together to deliver the goods
With 30 years' experience of working in London's construction industry – the last 10 of them at Mount Anvil – Project Director John Hoban is currently overseeing our Keybridge development in Vauxhall. It's a tall order, in more ways than one… We sat down with John to talk about challenges, awards, his team and much more.
Hi John, tell us a little about you. How did you get into your role here?
Before I came to Mount Anvil, I worked for a main contractor in and around London for 20 years. I joined them at 16 as an apprentice carpenter, and worked my way up to become a Site Manager.
I joined Mount Anvil in 2009 and progressively working across bigger and more complex schemes, from a PRS project, Seward Street, to resi and workspace project, Filaments in Wandsworth before stepping up to Senior Site Manager at our multi award-winning scheme in Canary Wharf, Dollar Bay. Step forward to day and I'm working with a team of over 400 people  Keybridge in Vauxhall as Project Director.
Can you tell us a little about your role here?
So, I have full responsibility for getting Keybridge built. Essentially that means I'm overseeing the programme, keeping things on schedule, and ensuring our high standards are maintained across site.
A big part of my day is meeting with the teams on site and feeding into the project, to keep everyone up to speed about what is happening and when. The other is maintaining cohesion between production, commercial and design teams, to ensure that we're always delivering on time, on budget and to the high standard our customers expect.
10 years at Mount Anvil is a great commitment – what keeps you coming into work every day?
The team and the projects. Working with great people who have the same drive and passion as I do makes all the difference, and look at what we're creating – amazing homes for Londoners, new spaces for the Vauxhall community, a huge amount of commercial space and even a new primary school. They're complex builds which keep things challenging. There's never a boring day!
You're currently based at Keybridge in Vauxhall. Tell us about the scheme?
Of course! Keybridge is made up of seven buildings, ranging from four to 37 storeys – the tallest residental brick tower in the UK, I might add! As well as a concierge, business lounge, pool, gym, sauna and spa, parking and 94,000 sq. ft. of shops, cafes and offices.
One big consideration for the build was an existing two-storey basement, which meant complex micro-demolition on site. Unforeseen five-metre-deep foundations caused a multitude of issues too, but the team on site worked through those problems and more in a calm, methodical way that really showed their quality and experience.
Overcoming those challenges resulted in the first NHBC Award being issued for Keybridge this year.
Phase 2 consists of 125 homes in a 19-storey building. That building also includes a new three-storey school and playground – an extension for Wyvil Primary School that's creating space for additional 360 Lambeth kids. Delivering a school above 125 homes comes with its challenges, but we're rising to them all!
We're working really closely with Lambeth to deliver what they want and need, and to ensure that the school is as much part of their legacy as it is Mount Anvil's.
You've recently been nominated for an NHBC Award – congrats. What are these awards all about?
This is really a result of Keybridge's hard-working production side, as well as our amazing design team and ever-vigilant commercial team. Across the board we've all managed to drive the build programme whilst maintaining our exceptional quality and health & safety standards, and that's been recognised with an NHBC Award nomination.
So, if we win, I'll be accepting this award on the Keybridge team's behalf.
What would you identify as your superpower?
Personal relationships. Being there for the team whether their challenges are site related or personal, maintaining a great buzz and energy within the team, and helping everyone pull together to deliver the goods.
What's your favourite part of your job?
The complexities and the challenges, and the confidence that comes from knowing we've got the people in house to overcome them.
Finally, what makes you proud?
If I had to pick one thing, I'd just say the quality of the homes we create. These are complex, difficult builds a lot of the time, and we're consistently delivering them on time and on budget – and the homes are so well finished.
We've got a great track record for low snags at handover and low ongoing maintenance costs. That's something not all developers can say, and something I'm really proud of. 
Interested in being a part of the team here? We're always looking to meet A-players – the kind of collaborative, driven, talented people who can thrive here. Visit our careers page now to find out more.