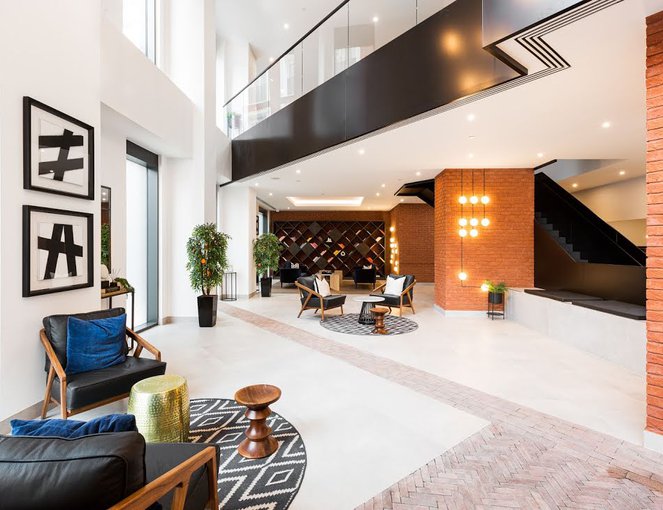 09/04/2020 • Development update
Topping out at Keybridge
The first quarter of 2020 has been packed full of productivity and progress at Keybridge. Vauxhall is an exciting area to be living in right now and that is felt within the development too. And with 78 completions for Keybridge Lofts taking place so far, we are enjoying welcoming more residents to their new home.
Construction Update
With work on Keybridge Lofts wrapping up, Keybridge Capital is on track too with the façade taking shape with metal sections, windows, insulation and vapour barrier installed up to floor 14.
The first fix of apartment party walls, underfloor heating pipework and floor screed are complete up to floor 13. Another first fix is of the plumbing and electricals, plus internal apartment partition walls are complete up to floor 10.
The plastering, bathroom tiling and timber floor laying is working its way up the floors. As is the kitchen and wardrobe installation, currently installed up to floor 5 and 4 respectively.
Topping out
Last month our CEO Killian Hurley joined Sara Waller (Co-Strategic Director Sustainable Growth and Opportunity, London Borough of Lambeth), and Christopher Toye (Executive Head of Wyvil Primary), at Keybridge in Vauxhall to celebrate the topping out of the building housing the new Wyvil Primary School. The school will offer 350 more primary places for Vauxhall, along with the space and facilities to give future generations of local kids the best possible start in life. It's the highlight of a development that also brings nearly 600 new homes and 90,000 sq ft of commercial space to the area. The team popped into a classroom to take in some fantastic artists' impressions of the new school, drawn by pupils. Trade the felt tips for drafting pencils and we've definitely got some future architects and planners working in Vauxhall… Watch this space!
Vauxhall regeneration
Transport for London has major investment plans to radically improve the strategic transport network, including £40m alterations to the existing Vauxhall Underground Station. More information here.
Here to help
Our Customer Experience Team is here to support you as you plan for your completion.
We'll make sure you regularly receive written updates keeping you informed about our progress as the development takes shape, and we'll include your estimated notice date.
We're happy to help with planning arrangements to live-in or manage your property post-completion and can also recommend reputable furnishing companies and advice on lettings if required.
Do always talk to us before you make any financial or personal plans based on your estimated notice dates. 
We endeavor to serve notice to you as close to these dates as we can, but sometimes dates can change – if this happens, we will contact you immediately to discuss any changes in more detail.
If you have any questions about Keybridge or how we could help you more, please contact your personal Customer Experience Managers:
•    Simon Griggs: 07725 074 611 / sgriggs@mountanvil.com  
•    Annah Rae: 07753 296787 / arae@mountanvil.com 
•    Nina Xu: 07715 629936 / nxu@mountanvil.com / WeChat MARD2019