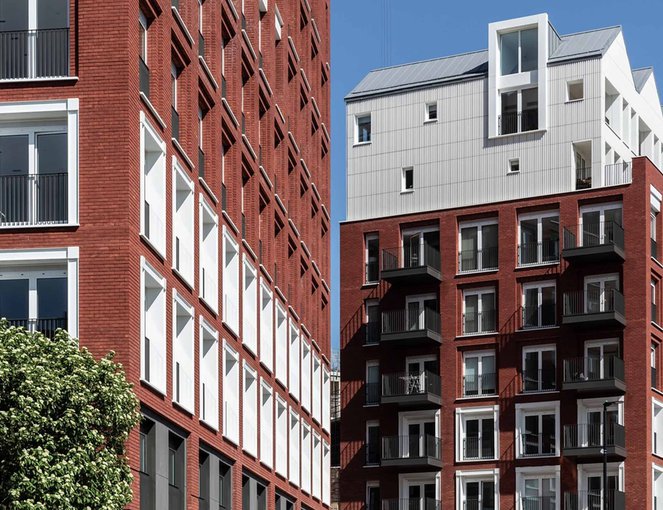 17/07/2020 • Development update
We're nearing the finish line at Keybridge
It's an exciting time at Keybridge right now. Many residents have already moved in and we're just adding the final touches to Keybridge Lofts. Find out more about where we're up to at Keybridge Capital and the residents' amenities.
Construction update
Since our team returned to site, we have slowly increased the number of workers at Keybridge Capital to ensure we are working as safely as possible and we have now welcomed back 280 workers onto site. 
Keybridge Capital is on track with the façade taking shape, windows, insulation, underfloor heating and partying walls all installed up to the 18th floor. The plumbers and electricians on site have now completed a first fix up to the 16th floor and a second fix up to the 11th floor. 
The plastering, bathroom tiling and timber floor laying is working its way up the floors. As is the kitchen and wardrobe installation, both currently installed up to the 10th floor. Keybridge Capital is on track to complete in Q1 2021.
Click here to watch your video update to see how things are looking at Keybridge right now.
Amenities
The gym, swimming pool and spa will be completed by the end of July. We'll have to wait and see what the government guidence is at the time to see if they can be opened.
Landscaping is due to complete by the end of September. Residents have already been enjoying the sunshine in a section of the garden which is already open, featuring some bespoke sculptures by Tom Price (image below).
Bespoke artwork by Tom Price
Changes to stamp duty
If you complete on a residential property between 8 July 2020 to 31 March 2021, you only start to pay SDLT on the amount that you pay for the property above £500,000. These rates apply whether you are buying your first home or have owned property before. Click here for more information.
With completion on track for Q1 2021, we'll do everything we can to ensure you complete within this timeframe.
Here to help
All purchasers at Keybridge Capital will receive a call from our Customer Experience team by the month of July. It is now time to start thinking about your completion, which is only 6 months away. Our team will be able to support you through the completion process; from putting you in contact with mortgage brokers or finance contacts, introducing you to furnishing companies, removal companies and agencies, or answering any general enquiries about the development or completion.
If you have any questions about Keybridge or how we could help you more, please contact your personal Customer Experience Managers:
•    Annah Rae: 07753 296787 / arae@mountanvil.com 
•    Nina Xu: 07715 629936 / nxu@mountanvil.com / WeChat MARD201