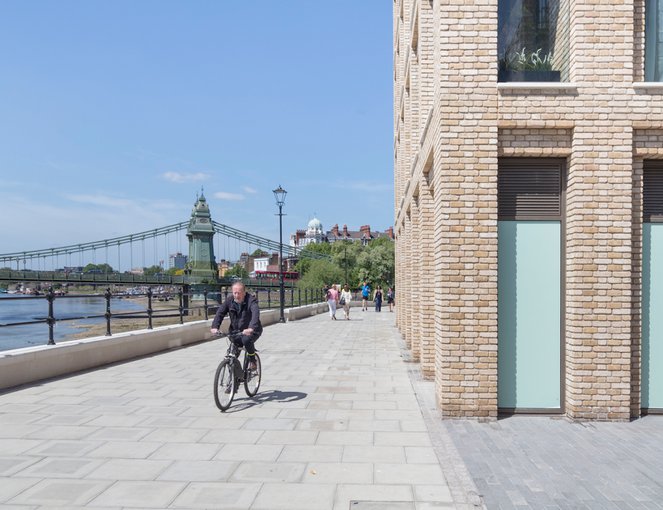 06/07/2018 • Development update
Hammersmith's award-winning riverside walkway
Queen's Wharf, our second joint venture with A2Dominion Group, is filling up the trophy cabinet fast and the Hammersmith Society's Environmental Award is the latest addition to the proud collection.
Every year, the Hammersmith Society recognises a development that they feel makes a significant contribution to the local environment. This year, Queen's Wharf stood out to the judges, where we've created a new cultural hub for Hammersmith through Riverside Studios, 165 homes and a new riverside walkway connecting the Thames Path and Grade II-listed Hammersmith Bridge for the first time.
At just eight storeys, Queen's Wharf's architecture has been carefully considered to complement neighbouring buildings and celebrate its riverside setting. Every glass panel and layer of brickwork elegantly follows the buildings' gentle curve, which is in line with the River Thames' bend. The river-facing metal façade reflects Grade II listed Hammersmith Bridge, while the brick façade mirrors the surrounding brick homes.
"A wonderful wide promenade"
As part of the project we opened a new section of the Thames Path along the riverfront of the development. Previously, the Thames Path was broken at the Studios and meant people had to follow a convoluted route down the back streets away from the river. Now there's a continuous, three-mile riverside walk from Barnes Bridge right down to Craven Cottage, home of Fulham FC.
The public space here has been radically improved, including a restaurant, café, bar and an independent theatre and cinema managed by world-famous Riverside Studios. All of this meant that Queen's Wharf was in a prime position to take home the society's Environmental Award.
The judges commented, "The river walk, a wonderful wide promenade, passing new and existing pubs with views across the river to the leafy walk alongside the Wetland Centre is very welcome as those wishing to stroll along the river no longer have to go inland."
This follows on from a nod at the Evening Standard New Homes Awards, where Queen's Wharf's three-bedroom show home was 'Highly Commended' as one of London's best apartments.
It's time to move upstream
Queen's Wharf also offers some pretty neat residents' facilities:
Rooftop yoga terrace
24-hour concierge service
Landscaped multi-levelled gardens

Don't miss your chance to live on one of London's most beautiful riverscapes – just two apartments remain.
Interested in viewing? To see the last homes available at Queen's Wharf, call: 020 3930 1413 or email sales@queenswharf.co.uk.

Photography credit: Assael Architecture Ltd.