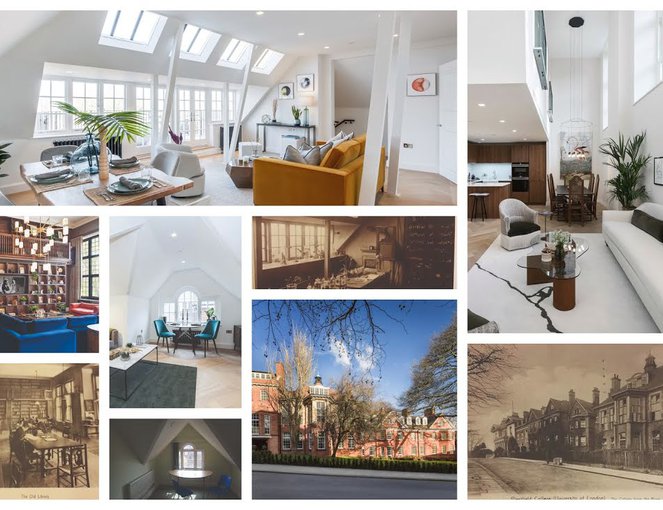 22/05/2019 • Development update
Hampstead Manor wins award
Hampstead Manor awarded Best Conversion at The Evening Standard New Homes Awards. 156 new homes with five Grade II listed buildings that have been brought back to their former glory.
The Evening Standard's New Home Awards champion excellence across the housing spectrum from first-time buyer flats to innovative family homes, factory lofts and historic conversions.
Judged by experts and its readers, Hampstead Manor was cited as having everything a buyer would want — inventive design, hi-tech, low-energy features, thoughtful use of space, sustainability, glamour and value. Evening Standard Judge commented on the night: "Mount Anvil has paid great attention to detail to create very attractive apartments".
The development has everything on offer, from new build homes to standalone houses and beautifully converted Grade II Listed buildings. Of the seven conversion buildings across the scheme, there's even a chapel, library and Kidderpore Hall, a Georgian mansion (and local landmark) built by John Teil, an Englishman who was once an East Indian leather merchant. The mansion and other listed buildings were acquired by Westfield College, a pioneering women's educational establishment specialising in botany, in 1889. Its illustrious history also includes visits by several members of the Royal Family, including HM Queen Mary, Princess Alice Countess of Athlone and HM Queen Elizabeth the Queen Mother.

Hampstead Manor creates 156 new homes, spread over 13 buildings. At the heart of the development is the sensitive restoration and conversion of the five Grade II listed buildings, which are complemented by new red brick town houses, pavilions and apartments as well as green spaces open to both residents and the public.
The development offers buyers a unique opportunity to purchase an historic home in Hampstead's esteemed NW3 district. Situated on a wide, leafy avenue near Hampstead Village and the Heath, the estate has the tranquil feel of a quadrangle and cloistered Oxbridge college. The grounds are freshly landscaped and there's even an expansive spa with swimming pool, steam room, jacuzzi and gym alongside underground parking and 24-hour concierge. Prices start from £975,000. 
If you want to live in an award-winning development steeped in history view Hampstead Manor here. 
Find a home
My budget is around