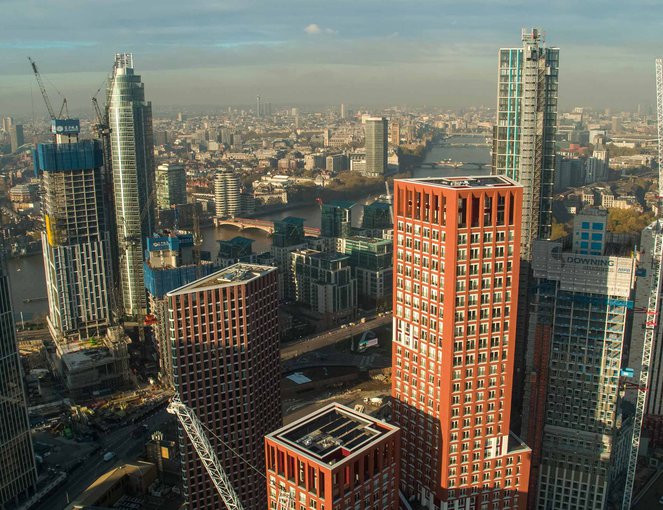 18/11/2020 • Development update
The final touches at Keybridge Capital
With completion set for early 2021, we're busy getting those final touches ticked off here at Keybridge Capital ready to hand over the keys for the final completions.
Construction update
Keybridge Capital
All balconies have now been installed. This means the crane can now be dismantled and will be taken down by the end of the month. The terraces on floor 17 and 18 are also complete. 
Snagging work is currently taking place on floor 16, with the goal set to complete all floors by the end of November. 
We've started work on the communal terraces on floor 10. As well as the decoration and finishing touches in the corridors and staircase, ready to sign off in December.
Amenities
The landscaping works to the entrance of Keybridge Cpital is kicking off mid-November, with completion for this set in December.
Resident reviews
We often like to check in with our purchasers to see how they're getting on after completion. Homeviews recently carried out a report on customer satisfaction at Keybridge, for all those purchasers already moved in, and here's what they found:
Mount Anvil's average star rating based on 2020 reviews is 4.26 out of 5, higher than Homeviews' average for facilities, design, location and value
New build owners rate Mount Anvil higher than Homeviews' average for customer service, quality, delivery timetable and after sales care
We won gold!
On Tuesday 3rd November, the Building Awards named Mount Anvil as the 2020 Housebuilder of the Year. But it's not just us that won, it was also our partners and residents. Read more here.
Here to help
Your Customer Experience team are here to support you from exchange until the day you complete on your property with Mount Anvil. They'll be your main point of contact and can be available to help over the phone, on email or WeChat. 
As your completion date is right around the corner, you should have been notified on the date of completion. If you haven't, please contact your Customer Experience Manager at your earliest convenience. 
Your Customer Experience Manager will be able to support you by introducing finance brokers, mortgage brokers, furnishing companies, interior designers, removal companies and any other helpful introductions to ensure the completion and handover runs smoothly.
If you have any questions about Keybridge, or how we could help you more, please contact your Customer Experience team:
•    Annah Rae: 07753 296787 / arae@mountanvil.com
•    Nina Xu: 07715 629936 / nxu@mountanvil.com / WeChat MARD2019
•    Sammi Xia: 07818 334519 / sxia@mountanvil.com