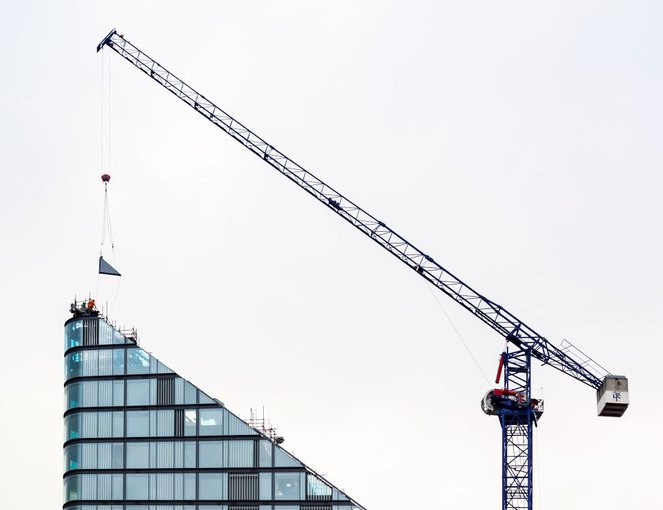 04/09/2015 • Development update
The Height of Luxury: Topping Out Lexicon
Lexicon's sleek, reflective outer skin has been rising fast, dressing Islington's tallest residential tower in a soaring, elegant wall of glass. On Tuesday 1st September the pinnacle of this beautiful façade was finally placed.
High above City Road and Regent's Canal, Lexicon has been grabbing London's attention for months and now its seamless glass curtain wall has reached completion with the final piece of glass installed. The topping out of the façade of this 36 storey landmark required skill, patience and the right weather conditions – just another example of the craft and care at the heart of this exceptional development.

The hoists that lift the panels of the façade into place and take the operatives up and down the tower, have travelled over 17,000km which is equivalent to the distance from London to Sydney Australia. The curtain wall contains 848 tonnes of glass – enough to cover the area of eight football pitches – and nearly 150km of aluminium framing. The result is a flawless, assured London landmark that shimmers with new life and feels like it belongs.

Lexicon's bold, beautiful floor-to-ceiling windows deliver light-flooded living spaces and panoramic views over Islington, the City Road Basin and the iconic cityscape beyond, but they're more than just breathtaking – they're brilliant. Made by specialist firm Yuanda, the glass of Lexicon's curtain wall is responsive to London's weather, automatically keeping your home the perfect temperature, whatever is happening outside.

With its iconic architecture, design-led ethos, waterside location and remote climate control by phone or tablet thanks to groundbreaking KNX technology, it's easy to see why over 80% of homes have already sold.