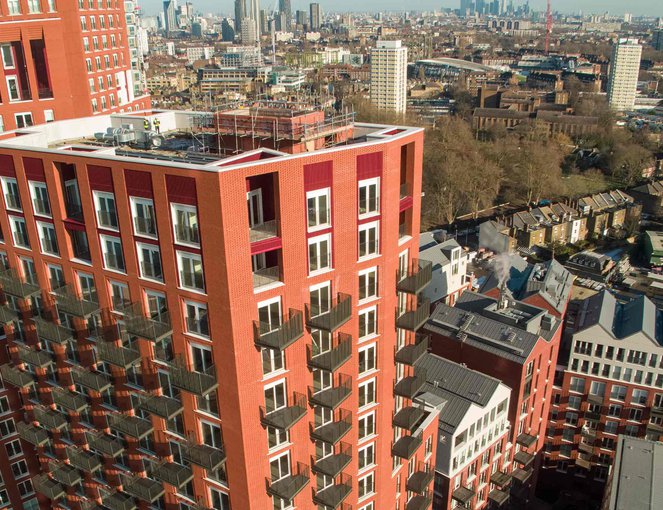 04/02/2021 • Development update
What we're doing to keep you safe during your handovers
We're delighted to have kicked off on our final completions and handovers last week, with lots more happening in the coming weeks here in Vauxhall. Whether you choose to carry out your handover virtually or in person, we've got all the information here you need on how we're keeping safe, and how we're here to make sure your handover is an effortless experience.
Construction update
Keybridge Capital
All homes are now undergoing the snagging process ready for home tours and completions starting this week. Hard landscaping to the resident entrance is on-going and will be completed within the next couple of weeks.
Amenities
Remedial works to the extensive landscaping and green spaces are progressing well.
Elsewhere, works to the school are also nearing completion, with anticipated handover on track for mid-February.
The safety of our people and protecting the public's health in the city we love is our top priority. With the government guidance currently that construction work is able to continue, we're continuing to do so safely by adapting our sites to ensure social distancing and with weekly COVID testing on site for all team members and contractors.
Check out the latest drone footage of the progress on site below.
What's the latest in the market?
"The rental market remained resilient throughout 2020 and we saw a continual demand for new build apartments in key locations and with excellent resident facilities.  We saw a 45% spike in enquiries over the Christmas period (compared to the previous year) and Tenant activity since the start of January has also surpassed previous years, showing the unrelenting appetite for rental property in central locations, even during lockdown."
- Gary Hall, UK Head of Lettings, Knight Frank 
"Keybridge remains one of the most sought after Residential developments in the Vauxhall and Nine Elms regeneration area. We have let circa 85 properties in the scheme since inception and have strong demand from prospective Tenants for more apartments to let. The combination of excellent facilities in the building and the close proximity to Vauxhall Station attract a variety of Tenants ranging from local professionals, international students and corporate executives."
- Jack Alisiroglu, Associate, Battersea & Nine Elms Lettings, Knight Frank 
Hearing from our residents in 2020
While completing homes and handing over the keys to our residents is one of our favourite parts of the job, it doesn't stop there. We always want to know how people are getting on once they're settled in. Late last year we caught up with some of our residents to hear what they thought about their homes. Check out our favourite bits below!
Here to help
Your Customer Experience team are here to support you from exchange until the day you complete on your property with Mount Anvil. They'll be your main point of contact and can be available to help over the phone, on email or WeChat. 
As your completion date is right around the corner, you should have been notified on the date of completion. If you haven't, please contact your Customer Experience Manager at your earliest convenience. 
Your Customer Experience Manager will be able to support you by introducing finance brokers, mortgage brokers, furnishing companies, interior designers, removal companies and any other helpful introductions to ensure the completion and handover runs smoothly.
The first completions at Keybridge Capital have kicked off, with over 100 completions set to take place this quarter. We're here to provide a safe environment with COVID-19 testing available for all home tours and a choice of both virtual and face to face handovers. For more information on what we're doing to keep safe, please download the documents below.
Our measures, precautions & commitments to you
More information on what we're doing to keep you safe
Your options for your home tours and handovers
Whether you'd like your home tour or handover to be done in person or virtually, we've got you covered