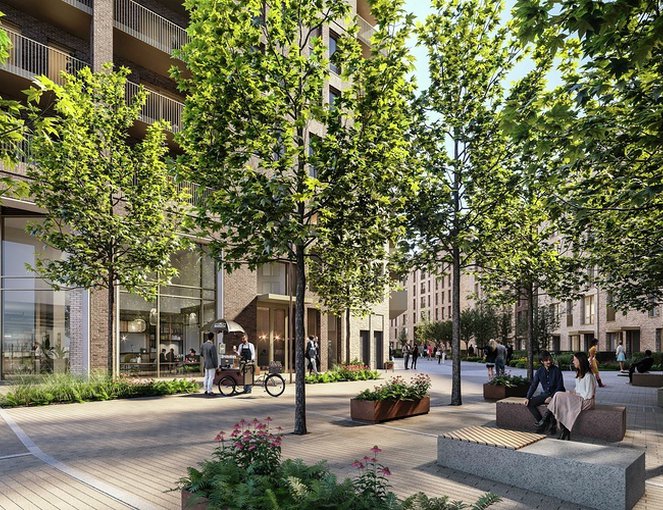 08/03/2022 • Development update
Crossrail confirms opening!
We're delighted Crossrail has confirmed its official opening by summer this year. And just a 3-minute walk away from Acton Mainline station, The Verdean is coming to life as we continue to make great progress on the build.
Construction update
The team is working hard onsite and we're currently on track with the construction programme. The ground floor slab that creates the foundation of the building is complete for The Oak (B1), making the building ready for the next stage of works on the reinforced concrete frame to commence. The concrete frame creates the individual floors and supports, from which the rest of the building is then constructed. Now that this step has started you will see in your next update the levels slowly start to rise through up the building and the The Oak will really begin to take shape.
Blocks A and G that incorporate the affordable housing provided by Catalyst into the development, are making fantastic progress on site with the reinforced concrete frame also in progress.
There are around 150 operatives on site per day at The Verdean, a number which we will see sharply increase over the first quarter of 2022. This is due to the type of works being undertaken increasing as each of the three buildings are ready for external works - this will include things like, scaffolding being installed around the buildings and the steel frame works.
Elsewhere, we'll be carrying out further demolition works to make the site ready for the next phases of the development.
To ensure the highest quality of our apartments and homes, we work with parties like the NHBC, a warranty and insurance provider for new homes. Throughout the build at key stages, they will carry out thorough inspections and have recently returned positive feedback on the quality of work that is being achieved on site.
Check out the latest progress in the time-lapse video below.
In the area
Crossrail
Now in the final stage of the programme, Trial Operations, Crossrail remains on track to officially open in the first half of 2022. Check out the latest update here.
Looking to the future here in Acton
Planet Mark Business Certification to be awarded to Mount Anvil
Having already been the UK's first residential developer to achieve Planet Mark's Development Certification, we're now set to achieve Planet Mark's Business Certification.
Planet Mark works with businesses across the world to encourage climate action and build an empowered community focussed on making sure the planet is fit for future generations. By working with Planet Mark to achieve its Business Certification, we'll be measuring our carbon emissions, reporting them, and reducing all associated with our business operations, taking a significant step on lessening our impact on the planet and society, and creating a benchmark within the industry for others to follow.
Read all about it here.